Facebook Pages has become a popular marketing tool for many companies. In a survey conducted by Facebook – they found that 2/3 of Facebook users worldwide visit the Page of a local business at least once a week.
This week, Facebook announced they would be rolling out their new design which includes new features for businesses and digital marketers to use to meet their goals.
We've had a look at what the new features entail and have written this post to explain them in a bit more detail.
So, what's new? Facebook summarised the changes below:
A redesigned layout that's simpler and more intuitive
Dedicated News Feed to discover and join conversations, follow trends, interact with peers and engage with fans
Easy navigation between personal profile and Pages
Updated task-based admin controls giving trusted Page admins full control or partial access
Actionable insights and more relevant notifications
Safety and integrity features to detect spammy content and impersonator accounts
The new layout also makes it easier for users to see who is running a Page with more accessible bios.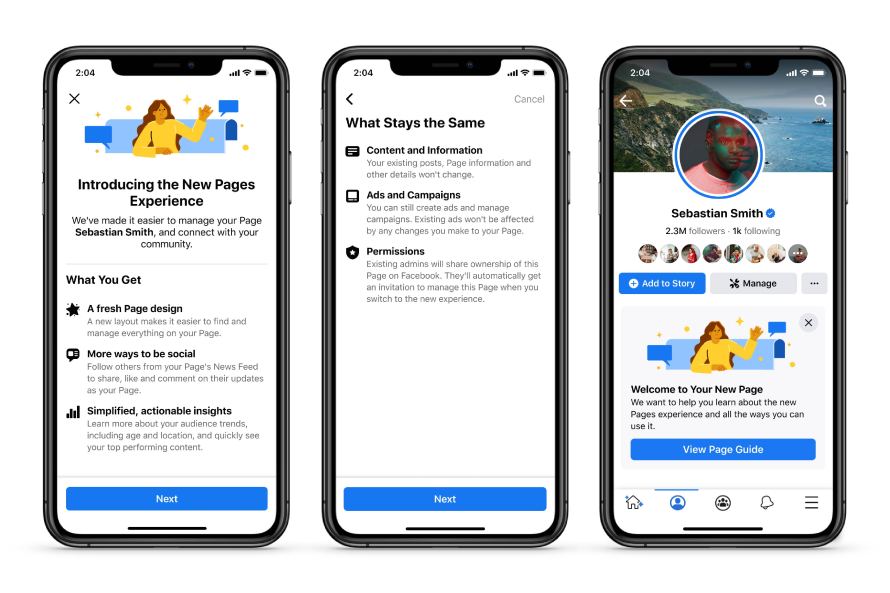 What are the most notable features for businesses and marketers?
No more 'likes'
It's not just Page admins who will notice the changes. The most apparent change to the layout from a user perspective is the focus on followers instead of 'likes'.
Before the update – users would be able to see the number of likes a Page has. Now, they can only see the number of followers. Followers are arguably more important for businesses/admins because this metric refers to the people who will receive any updates to the Page.
The removal of 'likes' may have come about because likes are often misrepresenting a Pages popularity or levels of engagement. For example, Facebook users tend to 'like' a page but later unfollow it – meaning they no longer receive any page updates.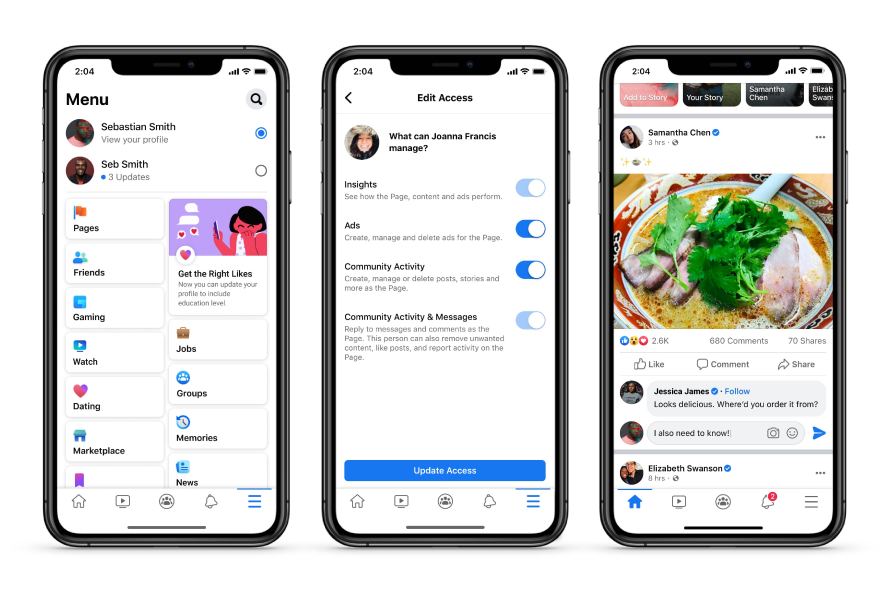 The option to 'invite' a friend to like a page increased the chances of this happening. You'll likely find that users accept these requests and proceed to unfollow the page to avoid interacting on it.
Facebook says that Page Followers will be the new metric at the forefront of the experience because it is a more realistic indication of how many users are engaging.
Pages will have a dedicated News Feed
For the first time, Page managers will now get their own News Feed. This will be a separate feed from their personal page. This is a notable change because Page managers will now be able to communicate directly as a brand. This means being able to follow trends, join conversations, interact with peers and engage with fans/followers.
The News Feed for Pages also acts as a personal feed in the sense that it will suggest any relevant connections or public figures for the Page to follow. Facebook has also announced that comments from Pages and public figures will be pinned to the top of comment sections. We expect that this will help Pages to be more visible to users.
Account switching made easier
Facebook has made it easier for Page admins to switch between their business page and personal profile. The new design means you can simply click on the three-line icon on the bottom of the navigation bar. Once you've done this – your personal profile icon should appear at the top of the screen. Similarly to on Instagram – you can click onto the button to navigate between the two pages.
Safety & moderation improvements
Facebook has said it will be improving its ability to:
"detect activity which is not allowed on the platform, including hate speech comments, violent, sexual, spammy content, impersonator accounts, and phishing."."
Facebook hasn't provided all the specifics on this update just yet. Although they have revealed that the verified blue badges will become more visible – making it easier for users to know when a comment or post is from an authentic Page.
New Q&A format for users
The new Q&A format will allow Pages to interact with their followers in new ways. It seems to be inspired by the recent Instagram trend, which involves social influencers adding a Q&A to their story. It's a way of giving users a chance to ask questions and get a direct answer from a figure or brand.
There are some notable differences with the trend on Instagram and Facebook. When asking a Page a question on Facebook – the answer will be added to a stack of questions that users can swipe through to learn more about the brand.
We recommend using this as a business to answer any frequency asked questions in a fun, engaging way.
Are any existing features being removed?
The only feature that is being removed is the visible 'like' counts. If you're an admin – then you won't need to worry about losing access to any existing features on Pages.
Find out how to set up a Facebook Page for business here. If you need any help optimising a new or existing Page – get in touch with our Facebook advertising team.