How can you avoid these common PPC mistakes in your campaigns?
PPC marketing is one of the fastest and most effective ways to generate more revenue for your business. As with any digital marketing channel – there are some key things to remember when it comes to running a successful campaign.
We are going to take a look at some of the most common mistakes people tend to make when running a PPC campaign – and how to avoid them. By following these PPC best practices – you can avoid wasting your marketing budget on paid ads that aren't driving significant business results.
Incorrect ad targeting
Without the right targeting – your PPC ads will probably be shown to the wrong audience. Correct targeting is especially important if you're targeting a smaller, niche audience. The great thing about PPC is that it allows us to reach out to a specific group of users at a particular time. When selling a product, you may want to adjust your targeting preferences when it's a new season or time of year (Halloween, Christmas etc.).
When it comes to targeting your online ads in the right way – there are two key things to consider:
Who your ideal customer is
The targeting options on the platform you are using
We recommend working out exactly who you should be targeting by creating a buyer persona. A buyer persona or customer persona is a visual representation of your target customer. This means you should consider any characteristics, demographics and interests that your ideal customer has – and write them down.
If you're not sure where to start with your buyer persona, we generally recommend thinking about the following:
Age
Occupation
Hobbies
Interests
Search habits
Creating your buyer persona is a way of honing your PPC strategy and landing pages to suit a specific profile. This means that you can reach out to your most valuable customers with more personalised, targeted ads. Without a clear buyer persona – it is likely that your ads may be too broad to reach those high-converting users. Search Engine Journal have a helpful post on using buyer personas to boost PPC performance – you can read it here.
The next thing to remember, is that your targeting will probably change depending on the platform you are using. You will find that most PPC platforms will have some crossover – but it's essential to consider how each platform operates in terms of their targeting features and options. This is something that is often forgotten and can lead to a loss of revenue.
Let's take Google Ads – when using this platform, you'll be targeting based on keywords, search queries and search engine users. On the other hand, a platform such as Facebook Ads will be focused more on user demographics and 'lookalike audiences'. You can find out more about the targeting differences between Google Ads and Facebook here.
Improper bidding
You may find that your PPC ads are not driving as many clicks or conversions as you expected. This is often the results of improper bidding. If this is the case, we would suggest raising your bids to see if this has any impact on your ad rank. For example, if you've increased your bid but still find that your ads are not being clicked – then you'll know there is an issue with something in your campaign. This could be your targeting methods, ad copy or even landing page.
If you have a daily budget in place, then adjusting your bid could be a good way of improving your bounce rate without wasting any budget in the long-run. If you don't see any improvements – then it is a good indicator that you're PPC marketing strategy needs optimising.
PPC ad copy
With PPC, you can't just rely on data alone. Your ad copy is one of the most critical aspects of your overall campaign. One of the common PPC mistakes that we see, is a lack of time spent on ad text.
Writing ad copy can be tricky to get right the first time – especially if you're new to the world of PPC. You'll need to consider how to present your ad text depending on the search engine or platform you're targeting, as well as which type of customer you want to reach.
We suggest looking at your online competitors on SERP's (search engine results pages). These are ads that users are clicking on and ads that have been running successfully for a long time. If an ad has remained visible for a long time, then it's likely that it has has earned a good return on investment in this position. As well as search engines, you can analyse social media feeds (Facebook, LinkedIn etc.) and again, look out for any long-running ads.
The great thing about PPC is that there are plenty of helpful marketing tools you can use to analyse your competitors closely. We recommend Spyfu – which we've spoken about before, here.
Not using negative keywords
Negative keywords should be an essential part of any PPC campaign. A negative keyword is a term that you do not want your site to appear for when a user searches. By default, Google will display PPC ads for searches they deem to be relevant, unless you tell it not to.
When you're paying per click – it makes sense to ensure that you are only receiving and paying for high-quality clicks that are highly likely to lead to a sale or another conversion. Google match types have changed over time, and they may trigger more keywords now than in previous years. It's not uncommon to find that some of these are irrelevant to your brand or product.
That is why we highly recommend taking full advantage of Google's negative keyword list. You're able to exclude as many terms as you want to and improve your return on investment as a result.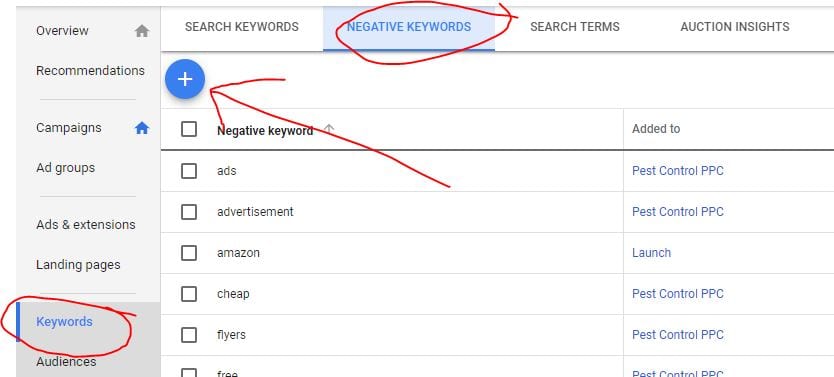 These simple mistakes can be easily avoided and once fixed, you'll likely notice improvements on your campaign results and ROI. Are you currently running a campaign and unsure why you're not driving the results you expected?
Don't hesitate to let us know or speak with one of our PPC experts if you have any questions.